EAN 355240 Steiff woven fur Peter rabbit, brown/beige
EAN 355240 Steiff woven fur Peter rabbit, brown/beige
This items is not currently in stock.

Please email or call us for ordering details.
bearlyamemory@bearattack.com or telephone toll free, 8am-9pm pacific 7 days per week
1-800-559-4585

Normally ships within 2 to 4 weeks.
---
Product Description
Peter rabbit, is 30 cm in size, 3-way jointed, made from a brown/beige colored cuddly soft woven fur and is not limited.

The beloved classic character Peter Rabbit will be brought to life in an all-new live-action/CG motion picture based on the series of books written and illustrated by Beatrix Potter.

The mischievous Peter Rabbit and his family take over the farm, throwing an endless party of fruits, vegetables, and bad behavior, but when a younger, spryer and more fastidious McGregor arrives to claim his inheritance, Peter is determined to keep the party going at the farm. It's not long before Peter realizes he has a formidable foe in the young McGregor, who is also falling for the local painter (and the rabbits' surrogate mother), Bea. Now, Peter will stop at nothing to drive McGregor away as the two go to war over the garden and Bea's affection.

Film released UK: 16th March 2018 film released USA: 9th February 2018. Does not have a certificate of authenticity and does not come in a box.

Peter Rabbit and all associated characters TM & © Frederick Warne & Co Limited. Peter Rabbit TM, the Movie ©2018 Columbia Pictures Industries, Inc. All Rights Reserved.

Size: 30 cm
Size: 12 inches
Edition Year: 2018
Edition Size: -
Receive a 10% price reduction at checkout if you use coupon code: Bear Bucks For Me!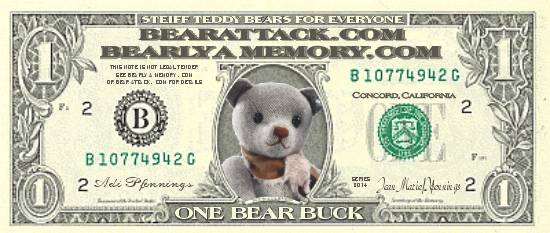 ---
Find Similar Products by Category
---
---
If you have any questions or special requests please contact us:

Email: bearlyamemory@bearattack.com
Toll Free Order Line: 800-559-4585
Or
925-922-0592
7 days a week from 8:00 am to 9:00 pm pacific standard time
"Friendly, courteous service guaranteed!"