EAN 690556 Steiff alpaca Spectacled ted cub, black/cream
EAN 690556 Steiff alpaca Spectacled ted cub, black/cream
This product is available for pre-order only
---
Product Description
Spectacled ted cub, is 35 cm in size, 5-way jointed, is made from black/cream colored alpaca and is limited to 1,000 pieces.

Richard Steiff devoted his life to creativity and innovative design after he designed the world's very first teddy bear with jointed movement in 1902. He took constant inspiration form the animal kingdom which he studied in great depth. Over 115 years later, Margarete Steiff GmbH continues to strive today for the same style and imagination in their teddy bears. As a celebration of these values, this very handsome Spectacled ted cub is the first in a series of bear cubs that embody both traditional and modern design.

Delicately airbrushed, the Spectacled ted cub is a tribute to the only living bear species native to South America and one of the most endangered bears on the planet, second only to the Giant Panda; the Spectacle Bear's closest living relative. Showcasing not only the beauty of this majestic species but also the distinctive hallmarks of a Steiff teddy bear, the Spectacled ted cub stands to pave the way for the future inspiration of design that began with Richard Steiff's original vision over a century before.

Spectacled ted cub comes in a box with certificate of authenticity.

Size: 35 cm
Size: 14 inches
Edition Year: 2018
Edition Size: 1,000
Receive a 10% price reduction at checkout if you use coupon code: Bear Bucks For Me!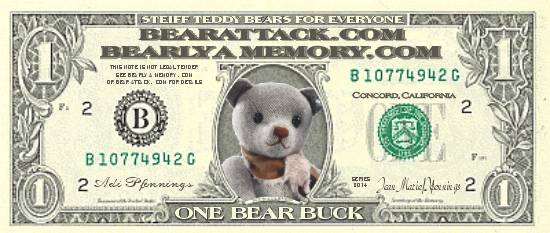 ---
Find Similar Products by Category
---
---
If you have any questions or special requests please contact us:

Email: bearlyamemory@bearattack.com
Toll Free Order Line: 800-559-4585
Or
925-922-0592
7 days a week from 8:00 am to 9:00 pm pacific standard time
"Friendly, courteous service guaranteed!"