EAN 683190 Steiff mohair George Teddy bear with music box, light blond
EAN 683190 Steiff mohair George Teddy bear with music box, light blond
---
Product Description
The George Teddy bear, is 32 cm in size, 5-way jointed, made from light blond colored mohair and is limited to 1000 pieces.

This Teddy bear is named in honor of George Washington, the first President of the United States. George is next in the series of North American exclusive musical patriotic bears. His wind-up music box plays "Hail to the Chief," the official Presidential anthem of the United States.

George is designed to look vintage and loved. His tan felt paw pads have been carefully airbrushed to add to his distinctive appearance. His dignified face comes alive with black button eyes, a brown hand garnished nose and mouth, and a carefully shaved muzzle. His presidential accessories include a special George Washington campaign button and a pair of official-looking gold and red silken shoulder epaulettes.

Vote to add George to your collection today.

He comes in a box with certificate of authenticity.

Size: 32 cm
Size: 13 inches
Edition Year: 2017
Edition Size: 1000
Receive a 10% price reduction at checkout if you use coupon code: Bear Bucks For Me!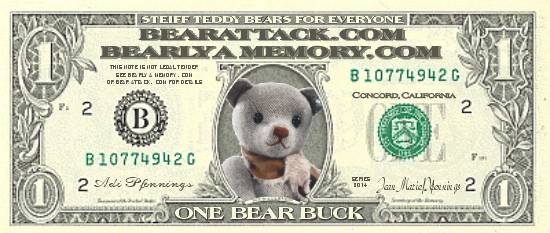 ---
Find Similar Products by Category
---
---
If you have any questions or special requests please contact us:

Email: bearlyamemory@bearattack.com
Toll Free Order Line: 800-559-4585
Or
925-922-0592
7 days a week from 8:00 am to 9:00 pm pacific standard time
"Friendly, courteous service guaranteed!"