EAN 006272 Steiff silk Gustav designer's choice Teddy bear, gold
EAN 006272 Steiff silk Gustav designer's choice Teddy bear, gold
This product is available for pre-order only
---
Product Description
Gustav designer's choice Teddy bear, is 32 cm in size, 5-way jointed, made from gold colored silk and is limited to 500 pieces only.

Gustav Teddy bear is the next in the Designer's Choice series, following in the pawsteps of Claude and Jackson. And just like them, he is a stylishly dressed individualist. He wears the finest dupion silk and elaborate ornaments inspired by the motif of Gustav Klimt's "Tree of Life". With gold-toned accents from head to toe, he is a credit to Gustav Klimt and the Art Nouveau movement.

Gustav designer's choice Teddy bear comes in a box with certificate of authenticity.

Size: 32 cm
Size: 13 inches
Edition Year: 2018
Edition Size: 500
Receive a 10% price reduction at checkout if you use coupon code: Bear Bucks For Me!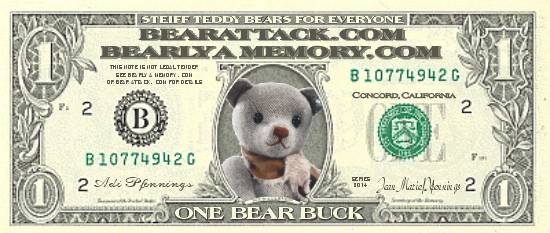 ---
Find Similar Products by Category
---
---
If you have any questions or special requests please contact us:

Email: bearlyamemory@bearattack.com
Toll Free Order Line: 800-559-4585
Or
925-922-0592
7 days a week from 8:00 am to 9:00 pm pacific standard time
"Friendly, courteous service guaranteed!"