EAN 006326 Steiff mohair Christmas Teddy bear, sand
EAN 006326 Steiff mohair Christmas Teddy bear, sand
---
Product Description
Christmas Teddy bear, is 32 cm in size, 5-way jointed, made from sand colored mohair and is limited to 1225 pieces.

"All good things come in threes!" With the season of goodwill approaching, the Christmas Teddy bear reached three times into his box of seasonal accessories. The first time, he pulled out a deep red velvet bolero with plush trimmings. And, with a glance in the mirror, declared it "just the ticket!". While his second attempt yielded a matching hat, the third time around saw his outstretched paw fall upon a gold-coloured bell. Quickly attaching this to his hat, the bear is almost satisfied with his new look. Almost. It is still lacking a certain something. Suddenly, inspiration strikes and we find the furry friend a little later sitting happily in the Steiff workshop – with three golden stars embroidered on his button nose. After all, all good things come in threes!

The Christmas Teddy bear comes in a box with certificate of authenticity.

Size: 32 cm
Size: 13 inches
Edition Year: 2017
Edition Size: 1225
Receive a 10% price reduction at checkout if you use coupon code: Bear Bucks For Me!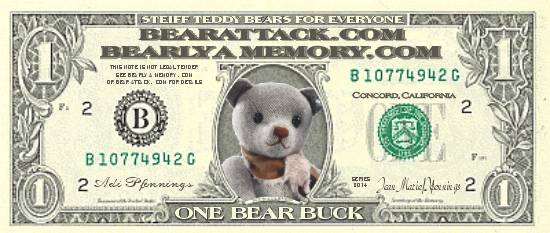 ---
Find Similar Products by Category
---
---
If you have any questions or special requests please contact us:

Email: bearlyamemory@bearattack.com
Toll Free Order Line: 800-559-4585
Or
925-922-0592
7 days a week from 8:00 am to 9:00 pm pacific standard time
"Friendly, courteous service guaranteed!"