EAN 006562 Steiff mohair sweet Santa Teddy bear with music box, white
EAN 006562 Steiff mohair sweet Santa Teddy bear with music box, white
This product is available for pre-order only
---
Product Description
Sweet Santa Teddy bear, is 27 cm in size, 5-way jointed, made from white colored mohair and is limited to 1,225 pieces.

"Oh what fun it is to ride in a one-horse open sleigh."

When Sweet Santa Teddy bear is out delivering his presents, you can hear him coming from miles away. The Jingle Bells melody jingles along merrily with every movement and the notes of the song are even shown on the sole of his paw. And, true to his name, Sweet Santa comes "bearing" sweets for everyone he visits.

Sweet Santa Teddy bear comes in a box with certificate of authenticity.

Size: 27 cm
Size: 11 inches
Edition Year: 2018
Edition Size: 1225
Receive a 10% price reduction at checkout if you use coupon code: Bear Bucks For Me!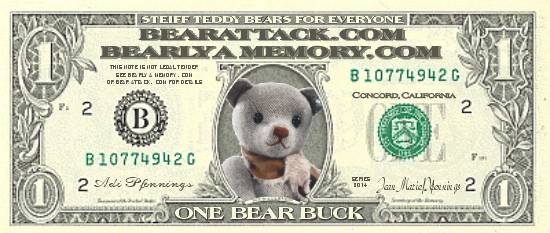 ---
Find Similar Products by Category
---
---
If you have any questions or special requests please contact us:

Email: bearlyamemory@bearattack.com
Toll Free Order Line: 800-559-4585
Or
925-922-0592
7 days a week from 8:00 am to 9:00 pm pacific standard time
"Friendly, courteous service guaranteed!"