EAN 006630 Steiff alpaca Lucy mouse, gray/white
EAN 006630 Steiff alpaca Lucy mouse, gray/white
---
Product Description
Lucy mouse, is 11 cm in size, 5-way jointed, made from gray/white colored alpaca and is limited to 1500 pieces.

Meet Lucy mouse! After the delicate-looking Lizzy mouse arrived on the scene in the spring, Lucy is introduced, the second in the mouse series. She is made of wonderfully soft alpaca, pretty, strong and visibly sure of herself. Fitting for the time of year, she has plucked a bright red Christmas star with green leaves made of wool felt. And while Lizzy was happiest out and about in the fields, Lucy mouse prefers a well-stocked pantry. Made of finest felt, her hands and feet are just the thing for climbing.

Lucy comes in a box with certificate of authenticity.

Size: 11 cm
Size: 4 inches
Edition Year: 2017
Edition Size: 1500
Receive a 10% price reduction at checkout if you use coupon code: Bear Bucks For Me!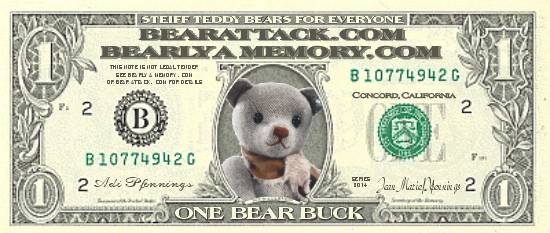 ---
Find Similar Products by Category
---
---
If you have any questions or special requests please contact us:

Email: bearlyamemory@bearattack.com
Toll Free Order Line: 800-559-4585
Or
925-922-0592
7 days a week from 8:00 am to 9:00 pm pacific standard time
"Friendly, courteous service guaranteed!"