EAN 006654 Steiff alpaca Winter reindeer, white
EAN 006654 Steiff alpaca Winter reindeer, white
This product is available for pre-order only
---
Product Description
Winter reindeer, is 32 cm in size, not jointed, made from white colored alpaca and is limited to 1,221 pieces.

"I come from way up north …" Just one glance at the Winter reindeer is all it takes to conjure up images of frozen Arctic landscapes.

The chest and neck of the proud animal are accentuated through high-pile alpaca plush with Lurex – all topped off with a filigree trimming and a Swarovski star pendant. The reindeer's "Button in Ear" – a Swarovski crystal – seems to have come directly from the icy seas.

Winter reindeer comes in a box with certificate of authenticity. Crystals from Swarovski®.

Swarovski® is a registered trademark of Swarovski AG.

Size: 32 cm
Size: 13 inches
Edition Year: 2018
Edition Size: 1221
Receive a 10% price reduction at checkout if you use coupon code: Bear Bucks For Me!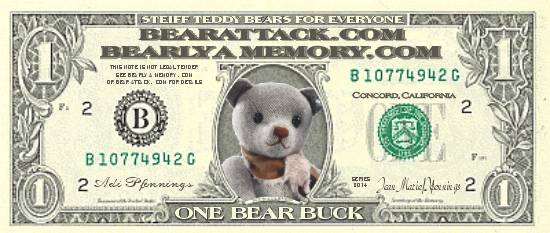 ---
Find Similar Products by Category
---
---
If you have any questions or special requests please contact us:

Email: bearlyamemory@bearattack.com
Toll Free Order Line: 800-559-4585
Or
925-922-0592
7 days a week from 8:00 am to 9:00 pm pacific standard time
"Friendly, courteous service guaranteed!"