EAN 006791 Steiff mohair mini Harlekin Teddy bear, red/blue
EAN 006791 Steiff mohair mini Harlekin Teddy bear, red/blue
This product is available for pre-order only
---
Product Description
Mini Harlekin Teddy bear, is 10 cm in size, 5-way jointed, made from red/blue colored mohair and is limited to 1,500 pieces.

Life in the Roaring Twenties was very colorful indeed. As were Steiff's Teddy bears: 1925 saw the tricolor Harlekin make an illustrious appearance in fiery red and cool blue. Following this, no further bears of this kind were produced for a long time. Wonderfully unconventional is he with his trademark yellow soles and paws.

Mini Harlekin Teddy bear comes in a box with certificate of authenticity.

Size: 10 cm
Size: 4 inches
Edition Year: 2018
Edition Size: 1500
Receive a 10% price reduction at checkout if you use coupon code: Bear Bucks For Me!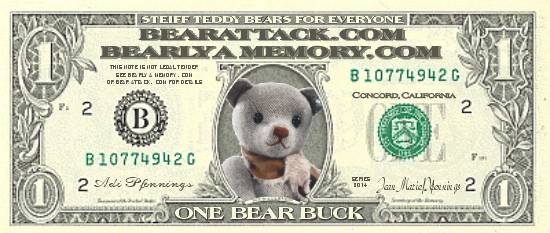 ---
Find Similar Products by Category
---
---
If you have any questions or special requests please contact us:

Email: bearlyamemory@bearattack.com
Toll Free Order Line: 800-559-4585
Or
925-922-0592
7 days a week from 8:00 am to 9:00 pm pacific standard time
"Friendly, courteous service guaranteed!"