EAN 355134 Steiff wool felt Bowtruckle, green
EAN 355134 Steiff wool felt Bowtruckle, green
---
Product Description
Bowtruckle is 38 cm in size, not jointed, has glass eyes, made from green colored wool felt and is limited to 1500 pieces.

"The sprig-like Bowtruckle can be immensely difficult to spot in a natural environment as it is not only very small but also can easily blend into any foliage. It appears to be made out of a tree stem with roots, tiny leafy branches and two brown eyes.
In the "Harry Potter" spin-off "Fantastic Beasts and Where to Find them", Newt has at least six of these little beasts named Pickett, Titus, Finn, Poppy, Marlow and Tom, though he can't help but play favorites with Pickett, whom he keeps safe in his breast pocket. The Bowtruckle, which eats only insects, is a peaceable and intensely shy creature.

Bowtruckle comes in a box with certificate of authenticity.

Size: 38 cm
Size: 15 inches
Edition Year: 2017
Edition Size: 1500
Receive a 10% price reduction at checkout if you use coupon code: Bear Bucks For Me!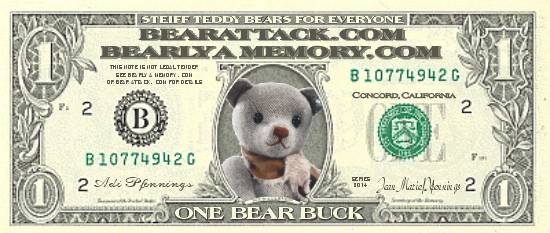 ---
Find Similar Products by Category
---
---
If you have any questions or special requests please contact us:

Email: bearlyamemory@bearattack.com
Toll Free Order Line: 800-559-4585
Or
925-922-0592
7 days a week from 8:00 am to 9:00 pm pacific standard time
"Friendly, courteous service guaranteed!"